BlogLeon Zucchini15 min read
10 Hottest New Apps to Explore the Future of Tech As It Happens
10 Hottest New Apps for You to Get Ahead in September 2023
Meet the 10 most upvoted apps in August — via ProductHunt.
Here we are again, in a tribute to the amazing stream of ideas that provide us with a surprising new set of tools every month. 😎
Yes, it's time to wrap up our list of the most remarkable apps that rocked the month of August, according to the votes of the Product Hunt community!
From**** game-changing developer tools to smart marketing solutions, productivity-boosting apps, and a tool for parents in need of a helping hand, this collection is nothing short of extraordinary.
Brace yourself for an AI-powered digital journey like no other!
Join us on this exciting journey as we explore each of these apps!
**A new AI model that you can prompt with UI designs Tags: Productivity, Developer Tools, Artificial Intelligence PH Launch: 23.08.2023 Upvotes: 2074 ▲
Do you have a design that you want to convert into code quickly and efficiently? Then Kombai is the right assistant for you. This AI model takes designs as prompts and generates code based on them, so you can easily transform your ideas into functional code.
Kombai produces high-quality output code in React, HTML, and CSS. Let's say you're working with Figma: there's no need to tag, name, or group design elements in any specific way, since Kombai works on vector data obtained from the design tool, ensuring accurate code generation.
It provides a logical div structure in the DOM, a logical component structure in the React code, and logical names for classes, variables, and components. The generated CSS code includes accurate width, margin, padding, and flex-related properties, without hardcoded dimensions. The JS code is clean and includes loops and conditions where necessary, and the tool generates functional components for form elements.
And don't worry: You can tweak the design a little to get the code you want, which makes this a valuable tool for developers and designers alike.
🪙 Pricing
Note: You can use Kombai for free during the public research preview.
Trial plan: Free (unlimited design uploads and code downloads, React and HTML + CSS outputs, Tailwind CSS and MUI Base, no design files shared with 3rd parties)

Enterprise plan:** Custom pricing** (custom CSS variables and mixins, custom component libraries, code output to fit your tech stack)
Email for developers Tags: Email, API, Developer Tools* PH Launch: 23.08.2023 Upvotes: 1739 ▲*
Resend is a modern email-sending platform that focuses on reaching humans instead of spam folders** and prioritizes exceptional developer experience and innovation.
Amongst its advantages, the app introduces a new way of developing and sending emails by allowing you to code your emails using React instead of outdated layouts like HTML or plain text. This makes it easier to build templates and creates a more dynamic and engaging email experience.
To avoid slow performance, you can choose the region from which your emails should be sent, minimizing latency and improving time-to-inbox, especially when end users are located in different parts of the world.
Resend also exposes all the events associated with an email via webhooks. This means you can track and analyze the delivery, open rates, clicks, and other important metrics to gain insights into the success of your email campaigns.
Designed not only for marketers but also for developers, this tool offers a clean REST API and SDKs for popular programming languages like Node.js, Python, Ruby, Elixir, Go, and Java. There are examples of how to send emails using serverless solutions like Vercel Edge Functions, Cloudflare Workers, and Supabase Edge Functions, so you can scale your campaigns with no worries.
🪙 Pricing
Basic plan: Free (up to 3,000 emails/mo, 100 emails/day, 1 domain, 1-day Data retention)

Pro plan:** $20/month** (50,000 emails/mo, no daily sending limit, unlimited domains, 3-day Data retention, multi-region)

Enterprise plan: Custom pricing (flexible Data retention, single sign-on, dedicated IPs included)
Create and ship lottie animations to sites and apps faster Tags: Design Tools, Developer Tools, Animation* PH Launch: 15.08.2023 Upvotes: 1559 ▲*
Creating a visually stunning website or app to impress your audience can be hard if you don't have the time or expertise to deal with complicated tools like Adobe After Effects. That's where **Lottielab** comes in.
With its user-friendly interface and intuitive features, you can quickly create and export beautiful Lottie animations to make your project shine — with no need to use complex tools and plugins!
You can import and edit Lotties, SVGs, or even start from templates and examples. The app features a simple but powerful timeline that allows you to animate your creations with ease. You can add keyframes, apply easing presets, share files and folders with your team, or collaborate in real time right within the editor.
And once you're done, exporting your animations is just as easy. You can export as Lottie, Gif, or MP4 to any platform you want, whether it's iOS, Android, or your favorite website builder like WordPress or Squarespace.
🪙 Pricing
Note: Lottielab is free to use during the beta.
Your ideas become visually compelling branded social posts Tags: Branding, Marketing, Artificial Intelligence* PH Launch: 07.08.2023 Upvotes: 1558 ▲*
Imagine you have an important event coming up, but you're overwhelmed by the thought of creating eye-catching content for every different platform and audience. This can be a daunting task for many.
Well, now you can automate this process with Stori AI and effortlessly create on-brand content that will enhance your online presence all around the web and ultimately achieve your marketing goals.
With the AI-assisted branding feature, Stori AI can transform a simple text into a full-scale brand identity, saving you time and effort. The content generator allows you to create ready-to-publish content for various social media platforms. And the cross-platform automation lets you easily reach your audience across multiple channels and make a lasting impression.
This means you can focus on what really matters: building engaging communities and driving user growth and engagement. Let Stori AI do the rest.
🪙 Pricing
Essential plan: $15/month** (1 brand, 4 social media channels, 10 posts/mo, 5 GB content storage)

Growth plan:** $20/month** (AI copilot, all social media channels, unlimited social media posts, videos, reels, blogs, 100 GB content storage)

Professional plan: $50/month (30 different brands, 3 languages, content scheduling, unlimited collaborators, advanced analytics)

Custom plan: $150/month (unlimited brands, multiple levels of authorization, advanced security and more flexible controls)
Interactive demos, videos & guides created in minutes Tags: Chrome Extensions, Sales, Marketing PH Launch: 01.08.2023 Upvotes: 1456 ▲
Are you constantly struggling to understand and make the most out of the software tools you purchase? Well, you're not alone. Many people face this problem and get lost in confusing tutorials. But **Floik** is here to carry the frustration away.
Floik is an app designed to help you showcase and educate users about your product. Whether it's through interactive demos, product videos, or step-by-step guides, this tool makes it easy for you to create engaging content that keeps up with the rapidly changing nature of your product.
You can add annotated screenshots, hyperlinks, and rich text, to ensure that users have a clear understanding of how your product works. What about recording and editing videos with AI voiceover, custom call-to-action, and auto-generated subtitles? If that's not enough for you, try designing self-serve demos with tailor-made hotspots and callouts to provide a hands-on experience of your product's capabilities.
Either way, Floik is a great choice to provide knowledge base content, onboard new users with informative videos, and even launch new features with walkthrough guides and release demos.
🪙 Pricing
Starter plan: Free** (1 user, 10 Flos, multiple formats, works with any web app, quick customization, shareable with links and embeds)

Pro plan:** $29/month** (unlimited Flos and formats, custom branding, download as mp4, AI voiceover, insights and analytics)

Teams plan: $149/month (unlimited users, team library, SEO, 1 custom domain, up to 2 integrations, SSO integration, advanced analytics)

Advanced plan: Custom pricing (AI summaries, roles and permissions, enterprise grade data governance, custom knowledge base and templates, custom integrations, training and onboarding)
**Instantly search through all your folders, apps, and accounts Meet **Curiosity, the ultimate all-in-one search tool, command bar and AI Assistant *🔎
**Curiosity** is the one search bar for all your work. It connects with your tools like Evernote, Notion, and Slack, to give you one integrated search! That saves time and helps you stay in the flow.
Curiosity also gives you a shortcut to instantly launch programs, join meetings, open folders, and search your clipboard history.
And it gets even better: With the AI Assistant, Curiosity puts the power of ChatGPT at your fingertips. You can use it to summarize or translate documents, auto-reply to emails, and ask questions about your files.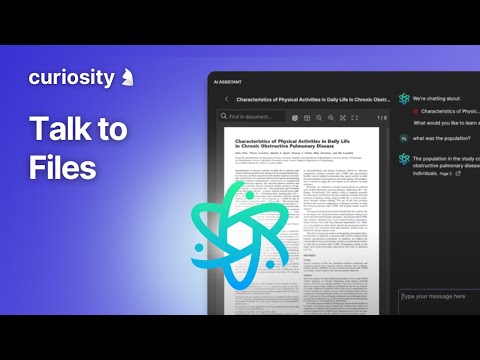 Talk to files using the Curiosity AI Assistant
No need to waste time jumping from one app to another when you can have everything you need in one place, right?
🪙 Pricing
Note: Curiosity offers a 14-day free trial of the Pro*** plan. Learn how to get it here.*
Starter plan: Free* (*up to 5 cloud apps, Spaces, unified inbox and calendar, command bar, clipboard manager, contacts, notes)

Personal plan:** €3.99/month** *(*unlimited personal apps and Spaces, search-in-files, indexing scheduling, AI assistant)

Pro plan: €9.99/month (unlimited sources, professional apps, faster indexing, AI assistant)

*Teams plan:+ €9.99/month per user (Workspaces, shared commands, AI assistant, unified billing)
The visual note-taking tool for learning complex topics Tags: Productivity, Writing, Notes* PH Launch: 08.08.2023 Upvotes: 1398 ▲*
**Heptabase** will revolutionize the way you take notes and keep your thoughts organized! This app lets you effortlessly capture and organize your ideas, while also developing your thinking process and visualizing connections between them.
Heptabase combines the best elements of other note-taking and personal knowledge management apps like Notion, Logseq, Obsidian, Miro, and Mem.ai, to create a super intuitive and powerful tool. With a focus on learning and research, the app offers features like visualization, organization, annotation, and blocks and links.
You can create mind maps, nested whiteboards, and sections to visualize complex ideas. The flexible organization allows you to categorize notes based on different criteria using tables and kanbans. With PDF highlights and annotations, Readwise integration, and journals, you can easily make sense of your reading materials.
The high spot? All your data is stored offline and synced across multiple devices in real time. Plus, there's a web app for full access once you activate sync, and a mobile app coming soon.
🪙 Pricing
Monthly plan: $11.99/month *(*whiteboard note-taking, PDF annotations, web app and mobile app, real-time syncing)

Yearly plan:** $8.99/month** *(*whiteboard note-taking, PDF annotations, web app and mobile app, real-time syncing)
Understand your audience without 50 interviews Tags: Productivity, Marketing, Artificial Intelligence* PH Launch: 14.08.2023 Upvotes: 1371 ▲*
**User Persona Generator** is a game-changer app for you to understand your target audience better and win their hearts effortlessly. This AI-powered tool provides valuable customer insights for any business in just 10 seconds.
You simply have to describe your business and target audience in a couple of words, and let the magic happen. The app creates a detailed marketing persona with a comprehensive summary of their main problems, pains, goals, benefits, triggers, and barriers.
It then gives you invaluable marketing insights that will help you tailor your strategies to resonate with your audience. You can get actionable ideas for user acquisition, conversion rate optimization, and content marketing — everything you need to turn your persona into a powerful tool for success.
🪙 Pricing
Note: User Persona Generator is completely free to use.
Turn your read-later list into bite-size audio convos with AI Tags: Productivity, News, Artificial Intelligence* PH Launch: 09.08.2023 Upvotes: 1269 ▲*
Recast is an AI-powered app that offers a new way to consume articles by transforming them into entertaining and easy-to-understand audio conversations. This way you can both save time and lower screen time while staying up to date with the news.
The app is available on iOS and as a Chrome Extension, and lets you listen to any article as a short podcast. Instead of reading, you can just listen to co-hosts who explain the content in real dialogue, making it easier to understand and engage with the information and keep learning on the go.
You can either submit any article you want to convert or browse through the community recasts — with a wide range of content to choose from. This helps you filter through the overwhelming amount of information and expand your horizons. And it's definitely a faster way to clear your reading list.
🪙 Pricing
Basic plan: Free** (unlimited listening, submit top publishers, share your recasts, Chrome Extension)

Pro plan:** $9.99/month** (submit any publisher, ad-free experience, private RSS feed, offline listening on iOS)
***Precise precipitation forecasting app *Tags: Android, iOS, Weather PH Launch: 22.08.2023 Upvotes: 1191 ▲
If you're constantly getting caught in the rain and having your plans ruined, this tool might be just the solution for you! Meet Rainbow AI, a hyperlocal weather app that will help you keep your plans for the day and stay dry.
The app provides extremely precise rain forecasts for your location, so you'll know exactly when and where the rain is coming. It also offers high-quality radar info on an interactive map, allowing you to plan your trips accordingly. There's a hurricane tracker feature and security notifications to make sure you stay safe anywhere.
Rainbow AI can alert you about upcoming rainfalls, from a little rain to a downpour, snow notifications, and upcoming weather changes for your place of stay. It's perfect for those of you who love outdoor activities like running, visiting zoos with kids, or simply walking your dogs peacefully.
🪙 Pricing
Note: Rainbow AI is available for free on the App Store (iOS) and Play Store (Android). Some functions require a premium subscription.
Premium plan:** €4.49/month** (hurricane tracker, dropcast, security alerts, no ads)
24/7 AI-powered mental support for parenthood and pregnancy Tags: Android, iOS, Health & Fitness* PH Launch: 08.08.2023 Upvotes: 1162 ▲*
Are you expecting a baby or recently became a parent? If so, you're probably experiencing a mix of excitement, joy, and maybe a little bit of anxiety. With that in mind, Soula Care app was created.
The app leverages official resources and doula expertise to answer your questions and offer compassionate care 24/7 — so that everyone can have access to mental support and guidance throughout the parenthood journey.
One of the biggest challenges of becoming a parent is the lack of knowledge and confidence that doesn't magically appear overnight. Soula understands this and offers an extensive content library with videos and articles by professional doulas, pregnancy educators, and coaches. You can access practical tips and tricks to make parenthood more comfortable and fun.
There's a beautiful pregnancy tracker that visualizes your baby's growth week by week, so you can monitor your progress and receive tailored tips based on your pregnancy stage. And you can talk to a smart personalized chatbot that draws from the collective experience of over 30,000 moms to find answers to any possible questions you might have.
While it doesn't replace consulting with a qualified healthcare provider for any medical advice or concerns, Soula Care is indeed a helpful source of information and support you need during this special time in your life.
🪙 Pricing
Note: Soula Care is available for free*** on the App Store (iOS) and Play Store (Android). Some functions require a premium subscription.*
Soula App:** Free** (mental health support, pregnancy tracker)

Soula Plus: $4.49/week (video guides and written content by expert partner doulas)
Wrapping up
And that concludes our journey over the 10 hottest apps of the month — according to the Product Hunt community! 🏆
The launches showcase the power of AI in various domains. With a focus on developer tools, marketing, and productivity, these apps offer a wide array of innovative solutions.
Whether you're seeking an all-in-one workflow solution for your product development team, an app to ensure your emails never hit spam folders, or even something to help you with the inherent parenting challenges, this list has something for you. Try them out now and let us know what you think in the comments!
And why not check **Curiosity* and get a unified search solution, a magic launcher, and an AI assistant all in one?* 🚀
Methodological note
There are many ways to interpret: "Hottest in the month". In case you're wondering, here's how we put together the list:
Check the most-upvoted list every day this month (ProductHunt Time Travel)

Check upvotes as of the day of collection (1st of the following month)

Select 10 apps with the most upvotes
That means the list is slightly biased towards apps that launched earlier in the month (more time to collect votes). However, since it contains apps from the entire month, we feel that small imprecision is acceptable. Upvote counts are from the day we pulled the data.
We also removed any projects related to NFTs, blockchains, and Web3. If you're confused why, check out @web3isgreat or @smdiehl on Twitter.
If you enjoyed this article, you might want to check out: