BlogLeon Zucchini14 min read
10 Hottest New Apps to Supercharge Your Work: September's Finest
10 Hottest New Apps to Supercharge Your Work: September's Finest
Meet the 10 most upvoted apps in September — via ProductHunt.
Welcome back to our monthly meetup, where we uncover the hidden gems and must-have apps that dazzled us in September! ✨
Dive into a world of *productivity+ and efficiency as we present to you the 10 most upvoted apps, according to the Product Hunt community.
This month's collection is dominated by SaaS offerings, with a sprinkle of AI-powered wonders, developer tools that will make your coding dreams come true, email and browsing experiences that will revolutionize your digital routine, and remote work solutions to keep you connected from anywhere.
Join us as we explore the new trends in the tech market, and get ready to be inspired!
The simplest way to create forms for free Tags: Productivity, SaaS, No-Code* PH Launch: 19.09.2023 Upvotes: 1932 ▲*
Dealing with boring and complicated forms can significantly slow down our pace at work. To solve that issue, Tally 2.0 presents a simple and intuitive form builder with no code involved to make your life easier.
Tally is perfect for anyone who needs to create online forms: business owners, researchers, teachers, marketers — just anyone who needs to collect data, really. You don't need any coding skills — simply type your questions like you would in a document, and Tally takes care of the rest.
You get unlimited forms and submissions for free right from the start. As long as you stay within their fair usage guidelines, you can create professional forms and surveys without any limitations, share them with your audience, collect their responses, and analyze the data hassle-free.
Tally is GDPR compliant and takes your data privacy seriously. It's hosted in Europe, doesn't use cookie-tracking, and all form data is securely stored and encrypted both in transit and at rest.
🪙 Pricing
Basic plan: Free (unlimited forms and submissions, collect payments, file upload up to 10 MB/file, email notification, form logic, calculator, hidden fields, answer piping, schedule a close date, custom closed message, integrations & more)

Pro plan:** $29/month** (no Tally branding, custom domains, partial submissions, collaboration, custom CSS, no commission, workspaces, unlimited uploads)
Email made easy Tags: Email, Email Marketing, Developer Tools* PH Launch: 06.09.2023 Upvotes: 1749 ▲*
Built with the experience of other platforms like Mailchimp, Sendgrid, and Mandrill in mind, Loops is the ultimate email platform, designed for modern SaaS companies to send better marketing and transactional emails.
With Loops, you can automate essential touchpoints to ensure your customers are always in the loop. Base your automation on specific events and trigger emails to onboard new customers, invite trial users to upgrade, nudge inactive users, and gather valuable feedback to keep user activity high and reduce the need for extensive customer support.
The app allows you to send out new product announcements, engage with your readers through newsletters, and handle transactional emails like password resets in a painless and cost-effective way, with a user-friendly brand management system and a delightful developer experience.
🪙 Pricing
Starter plan: Free (up to 1,000 contacts, up to 2,000 sends/mo, full access to everything else)

Pick a plan:** from $49/month** (starting with 5,000 contacts, unlimited sends to your audience)

Enterprise plan: Custom pricing (unlimited contacts, unlimited sends)
**How the fastest developers ship code Tags: Productivity, SaaS, Developer Tools PH Launch: 19.09.2023 Upvotes: 1682 ▲
Are you tired of getting stuck in code review and feeling like your development process is slowing down? **Graphite** is here to help you ship code faster and stay unblocked!
With Graphite, you can create smaller pull requests and accelerate your development. It's built for stacking, a workflow used by top companies like Meta and Google. By creating small, dependent sets of pull requests, you can ensure a smoother code review process.
The Graphite CLI, web app, and VS Code extension work together to empower engineers to start stacking and create efficient pull request stacks. Plus, the pull request page in Graphite provides a beautiful code review interface, allowing you to focus on what matters most — the code itself. You can auto-generate a detailed description for every pull request and even turn your comments into suggested code changes.
Real-time notifications keep you up-to-date on review requests, comments threads, merge status, and other activity on your pull requests. What's best: the app seamlessly integrates with GitHub, so you can collaborate on pull request reviews in real time with the whole team.
🪙 Pricing
Note: Graphite is offering 15% off with the promo code CURIO15. The coupon is valid until Dec 31, 2023, and the discount will apply for up to 12 months.
Basic plan: Free (unlimited users, bidirectional sync to GitHub, 10 open stacks per org, up to 3 searchable GitHub repos, 3 months of searchable pull request history)

Team plan:** $30/month per user** (unlimited open stacks, up to 30 searchable GitHub repos, 2 years of searchable pull request history, merge queue, detailed insights)

Enterprise plan: Custom pricing (custom SLAs & enterprise agreements, sync to self-hosted GitHub enterprise, supports repos with 500+ committers)
Easily translate ideas into exceptionally accurate images Tags: Artificial Intelligence, Digital Art* PH Launch: 21.09.2023 Upvotes: 1628 ▲*
With the recent burst of apps that provide text-to-image systems, we have been left with a dilemma. They are made to simplify image creation for everyone, but it's not easy to make them understand your descriptions if you're not familiar with prompt engineering.
Well, get ready for a game-changer! **DALL·E 3** is about to enter the scene, and it's going to revolutionize the way you generate images from your text. Designed to understand the nuances and details of your speech, you'll be able to effortlessly translate your ideas into incredibly accurate and precise images with DALL·E 3.
Natively built on ChatGPT, you can use it as your brainstorming partner and prompt refiner. Simply ask ChatGPT what you want to see in your image, from a simple sentence to a detailed paragraph. It will automatically generate tailored and detailed prompts for DALL·E 3, bringing your ideas to life. And if it's not quite right, you can make tweaks with just a few words.
🪙 Pricing
DALL·E 3 is now in research preview and will be available to ChatGPT Plus and Enterprise customers in October, via the API, and in Labs later this fall
Customer facing workflows to handle unstructured data Tags: Productivity, Task Management, Remote Work* PH Launch: 11.09.2023 Upvotes: 1464 ▲*
Beau Workflows is the app you've been looking for to eliminate endless forms and manual data entry when collecting information from clients. Just create a workflow using their visual builder, share the link with your clients, and sit back while they upload PDFs, images, and more. Beau extracts all the necessary details tailored for your everyday tools, saving you from the hassle of manual data entry.
Beau helps you create efficient customer-facing workflows by collecting online forms, files, accepting payments, sending messages, and more. The app extracts and validates data from customer documents, eliminating manual data entry and ensuring accuracy and reliability.
With seamless integration, Beau can easily become an integral part of your workflow, while its human-in-the-loop approach enhances efficiency by adding a personal touch. Your clients will love the simplified process and regular updates that keep them informed about the progress of their requests.
🪙 Pricing
Beau plans start at $149/month, with a free trial.
Starter plan: Free** (1 user, 10 Flos, multiple formats, works with any web app, quick customization, shareable with links and embeds)

Pro plan:** $29/month** (unlimited Flos and formats, custom branding, download as mp4, AI voiceover, insights and analytics)

Teams plan: $149/month (unlimited users, team library, SEO, 1 custom domain, up to 2 integrations, SSO integration, advanced analytics)

Advanced plan: Custom pricing (AI summaries, roles and permissions, enterprise grade data governance, custom knowledge base and templates, custom integrations, training and onboarding)
**Instantly search through all your folders, apps, and accounts Meet **Curiosity, the ultimate all-in-one search tool, command bar and AI Assistant *🔎
**Curiosity** is the one search bar for all your work. It connects with your tools like Evernote, Notion, and Slack, to give you one integrated search! That saves time and helps you stay in the flow.
Curiosity also gives you a shortcut to instantly launch programs, join meetings, open folders, and search your clipboard history.
And it gets even better: With the AI Assistant, Curiosity puts the power of ChatGPT at your fingertips. You can use it to summarize or translate documents, auto-reply to emails, and ask questions about your files.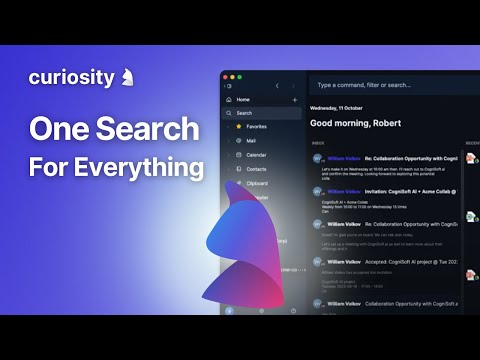 A quick look at Curiosity
No need to waste time jumping from one app to another when you can have everything you need in one place, right?
🪙 Pricing
Note: Curiosity offers a 14-day free trial of the Pro plan. Learn how to get it here.
Starter plan: Free* (*up to 5 cloud apps, Spaces, unified inbox and calendar, command bar, clipboard manager, contacts, notes)

Personal plan:** €3.99/month** *(*unlimited personal apps and Spaces, search-in-files, indexing scheduling, AI assistant)

Pro plan: €9.99/month (unlimited sources, professional apps, faster indexing, AI assistant)

*Teams plan:+ €9.99/month per user (Workspaces, shared commands, AI assistant, unified billing)
Simplify feedback, keep your team aligned, no live meetings Tags: Browser Extensions,** Productivity, Tech* PH Launch: 14.09.2023 Upvotes: 1403 ▲*
One of the main challenges in product development is managing feedback effectively. Commented is a powerful app designed to address this issue and simplify product team workflows.
With precision-driven annotations, it provides a platform for generating, sharing, and collaborating on feedback in a centralized manner. This eliminates the need for scattered emails or live meetings, reducing communication fatigue and improving efficiency.
Commented also offers AI-powered assistance, which can help improve the quality of feedback and content. With its intelligent suggestions and guidance, users can enhance their communication and make their feedback more impactful.
The app integrates with popular tools like Slack, Linear, and Figma, making it easy to incorporate into existing workflows.
🪙 Pricing
Note: Commented is offering 30% off with the promo code FIRSTCOMER.
Basic plan: Free (3 users, 1 workspace, 1 project, 200 pins, 2,000 comments, automatic screenshots, annotation on screenshots, image upload on comments, Slack integration)

Agency plan:** $49/month** (8 users, 5 projects, 10,000 pins, unlimited comments, SmartAI suggestions, Figma previews, mobile device and browser support, Linear, Notion and GitHub issues integration)

Company plan:** $99/month** (16 users, 10 projects, unlimited pins and comments, Jira integration, mobile SDK)
Your data, unified and interactive Tags: SaaS, Artificial Intelligence, Chrome Extension* PH Launch: 19.09.2023 Upvotes: 1401 ▲*
Klu AI made a previous appearance in our April 10-hottest list this year as an app designed for Mac users, offering teams a convenient way to access and collaborate on internal information. With integrations for Gmail, Google Drive, Slack, and Notion, it promises seamless data retrieval.
Now they're back with some updates, notedly an integration with an AI assistant to rescue information from documents, and an AI Chat where you can ask about your data. And there is a Chrome extension to offer added functionality.
In terms of data security, Klu AI stores data on its servers, with encryption measures in place. Just bear in mind that it requests access to your browsing history, personal communications, and user activity — which could raise privacy concerns for some.
While the new AI chat functionality may seem familiar to those who have explored similar tools, Klu AI's increase in pricing and its limits on integrations, pins, and filters are somewhat different than comparable solutions.
🪙 Pricing
Basic plan: Free (2 integrations, 2 Ask AI, 3 chat with file per day, limited pins, limited filters)

Pro plan:** $15/month** (unlimited integrations, unlimited Ask AI, unlimited chat with file, unlimited pins, all filters available)
All-in-one HR platform for founders with dreams and teams Tags: Hiring, Productivity,Human Resources* PH Launch: 14.09.2023 Upvotes: 1385 ▲*
We all know that a great product is not created by one person, but by a well-coordinated team of professionals who believe in their product. That's where FirstHR comes in. This platform connects organizations and talents, transforming them into solid dream teams that achieve extraordinary results.
FirstHR supports all aspects of HR, from recruiting and onboarding to team management and performance. It also takes care of important tasks like document and warehouse management, benefits management, and even finance. This helps reduce the time spent on hiring while improving the quality of new hires.
Internal communication also becomes a breeze with FirstHR as all documents and reports can be accessed online. This way you can easily identify the most talented and promising employees, in an affordable and efficient manner.
🪙 Pricing
Basic plan: Free** (access to all features, unlimited technical support, for teams of up to 5 people)

Pro plan:** $9/month per user** (access to all features, unlimited technical support, for teams of up to 100 people)

Unicorn plan:** Custom pricing** (access to all features, unlimited technical support, for teams of over 100 people)
**Never build permissions again Tags: API, Open Source, SaaS PH Launch: 12.09.2023 Upvotes: 1290 ▲
Managing permissions in your applications seems complicated and a never-ending process?
Permit.io provides permissions as a service, so you can focus on the core features of your application and leave the permissions management to the experts.
The user-friendly, no-code Policy Editor interface makes granting permissions as easy as checking a checkbox, so you can quickly have it up and running without asking for assistance. All with a simple UI, API, or directly with Rego code.
The platform supports multiple policy engines, so you can use the right tool for the right task and mix and match the policy engines you need for increased productivity.
🪙 Pricing
Community plan:** Free** (up to 1,000 MAU, 20 tenants, authorization API, multiple models — RBAC, ReBAC, ABAC, authorization microservice — PDP, backoffice, permit elements)

Pro plan:** starting at $125/month** (with 100 MAU and 35 tenants, Gitops, 14-day audit-log retention, email, chat, and Zoom support)

Enterprise plan:** Custom pricing** (single sign-on, custom uptime and support SLAs, compliance agreements, professional services, advanced deployment options, on-prem deployment options, anomaly detection)
Chat with your tools: find info, summarize, and create content Tags: Productivity, SaaS, Artificial Intelligence* PH Launch: 27.09.2023 Upvotes: 1243 ▲*
Another second-timer here on our list, **Collato** simplifies and accelerates various aspects of your work. With a quick setup process, you can effortlessly draft documents, get instant insights, create brand-aligned content, and manage stakeholders with ease.
Collato can write documents based on your product information, summarize meeting minutes and interview transcripts for instant insights, and create brand-aligned content in seconds. It can also answer stakeholder questions on your behalf, saving you time and effort.
The app integrates seamlessly with popular tools like Notion, Confluence, Jira, and Google Drive, making it a versatile addition to your workflow.
🪙 Pricing
Basic plan:** Free** (unlimited integrations, all functionalities, 25 free monthly AI responses per user)

Pro plan: $6/month per user (single sign-on, 250 monthly AI responses per user)
Wrapping up
The 10 hottest apps launched in September on Product Hunt have definitely shed light on the prevailing tech trends.
With a predominant focus on productivity, these apps demonstrate the growing demand for tools that streamline workflows and enhance efficiency. Integrations with Artificial Intelligence have been increasingly appearing in various domains, promising further advancements in automation and personalized experiences.
We hope this continuous drive for innovation will keep going, side-by-side with the desire to simplify and streamline processes. Stay curious, stay updated, and get ready to embrace the future of tech! 🤗
While you're here, discover the power of **Curiosity* and get a unified search solution, a magic command bar, an integrated mailbox, and an AI assistant to transform your digital experience.* 🚀
Methodological note
There are many ways to interpret: "Hottest in the month". In case you're wondering, here's how we put together the list:
Check the most-upvoted list every day this month (ProductHunt Time Travel)

Check upvotes as of the day of collection (1st of the following month)

Select 10 apps with the most upvotes
That means the list is slightly biased towards apps that launched earlier in the month (more time to collect votes). However, since it contains apps from the entire month, we feel that small imprecision is acceptable. Upvote counts are from the day we pulled the data.
We also removed any projects related to NFTs, blockchains, and Web3. If you're confused why, check out @web3isgreat or @smdiehl on Twitter.
If you enjoyed this article, you might want to check out: