Unveiling Curiosity's Latest Feature Releases and Updates
Discover the newest improvements in the Curiosity app — we've been working hard to give you the best experience.
Here at Curiosity, we aim big: our goal is to be the ultimate search tool you'll ever need for all the data you have scattered in the virtual world — wherever that may be.
That's why we're constantly releasing new app versions — and we're glad to count on your priceless help to point us in the right direction.
Join us now as we explore the key updates of our last release. 😎
1. Preview panel for files and mails
Searchable previews** are now available for files
When searching for a file with Curiosity, you used to have to open each one with the default program (e.g. PowerPoint). Not anymore.
Now you can click on a file to get a searchable preview. 📃
This helps you save time and search more efficiently without leaving the app. Take control of your items right from Curiosity.
You can still switch back to "Open outside the Curiosity app" at any time in the settings under Preferences > General > Quick Look.
2. Hubspot integration
Salespeople can move even faster now with our Hubspot integration
HubSpot is a popular Customer Relationship Management (CRM) platform that helps businesses manage and nurture leads and deals.
It provides a range of tools and features for marketing, sales, and customer service teams to streamline your processes and drive growth.
Now you can use Curiosity to instantly find and open Deals, Contacts, Organizations, Tasks, Notes, and Emails.
Add all your accounts from HubSpot and go close those deals!💪
3. Calendar invitations
Create events and send calendar invitations from Curiosity
Curiosity has displayed O365 and Gmail calendars for a while — with single view or multiple views, according to what suits best your needs.
In this new version, you can now create events and send calendar invitations right from the app.
That includes recurring meetings, time zones, and required / optional attendees.
To create a meeting, just go to your calendar and click on the time you want the meeting. A pop-up window will appear for you to add every detail.
And keep your eyes open: we plan to add a "quick-add" feature for the command bar in the future. 😄
4. Bug fixes and improvements
A few bugs were fixed, and we made further improvements
Thanks to your feedback, we were able to correct several bugs and made some refinements on the app.
We released fixes for:
Missing thumbnails for files

Video indexing and speech-to-text

Themes not being saved

Search syntax with "-" not working (for NOT)

Connectors for Dropbox, Evernote, Notion, IMAP emails

Bug causing app size to double

Crashes on macOS due to too many files being open

Chat-to-files not responding on macOS
We've also enhanced the handling of temp files created by the app. Now Curiosity can run more smoothly and even faster.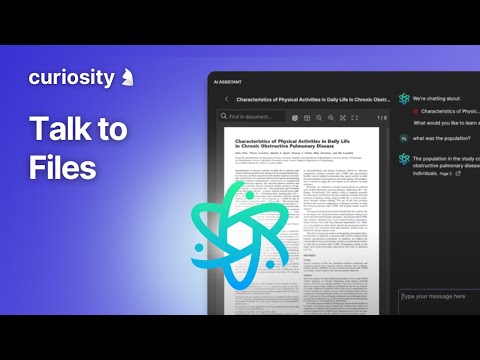 Use our AI assistant to talk to your files and get quick answers
Wrapping up
These are the updates for now in Curiosity — but keep tuned as we release new versions frequently.
Again, a huge thank you to all of our users for your invaluable feedback. Your input has been instrumental in making these improvements. We couldn't do it without you. 😉
Keep those suggestions and comments coming, and together let's make Curiosity an even more amazing app!
If you enjoyed this article, you might want to check out: